The Pre-Wedding Prep You Should Know Before Your Big Day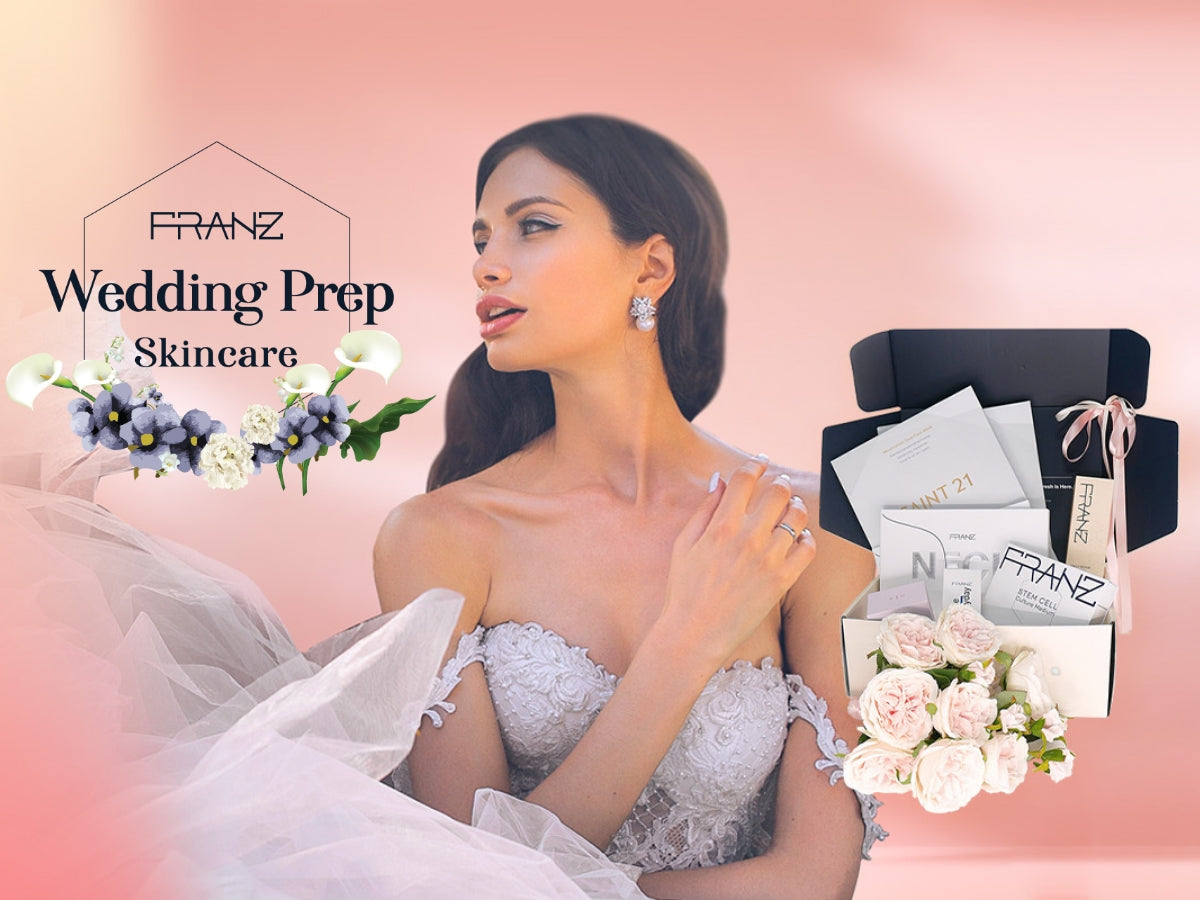 In this article :
Are you getting married soon? If so, then congratulations! Saying 'I do' is one of the biggest decisions you'll make in your life! While wedding planning may be stressful, achieving the greatest skin of your life before your big day doesn't have to be. A wedding beauty routine is a terrific way to de-stress and practice some self-care before the big day.

We would never want to suggest that brides must radically alter their appearance to look good for their wedding day - after all, that's not what it's about! However, we believe that everyone deserves to feel beautiful and confident on their wedding day, and a strong pre-wedding skincare routine will make sure you're looking and feeling your absolute best.

Ready to find out how you can have the best skin of your life on your big day? It's time to get down to business so you can look great on your wedding day.

Create a Foolproof

Skincare Routine

You might be wondering, "How far in advance should I have my skincare routine nailed down before the big day?" We recommend that you start prepping your skin ASAP. There's no such thing as too early when it comes to skin care prep for your wedding. It's never too early to start, as consistency is everything. Setting a foundation for healthy skin begins with laying the groundwork for a routine that you won't have trouble following through with.

Find a regimen that is affordable, doable, and beneficial to your skin. And once you've established a truly solid routine, don't tinker with it, especially as the big day approaches. Look for products with antioxidants and moisturizing ingredients to help strengthen and improve the skin's barrier. After all, the secret to healthier skin is a consistent, simple but effective regimen.
Invest In Some

High-Quality

Face Masks shop Saint 21 Gold Microcurrent Face Mask

Invest In Some

High-Quality

Face Masks

Your wedding is the ideal opportunity to indulge in a little extra luxury. While we'd all love to book a weekly facial, that's not always in the cards for us. That's why FRANZ has crafted the ultimate in at-home spa treatments with our microcurrent sheet masks.

Sheet masks infuse moisture and anti-aging ingredients directly into your pores while also allowing your skin to breathe for maximum hydration. To begin, we recommend using the Saint 21 Microcurrent Dual Face Mask twice a week for the first two weeks. After two weeks of twice-weekly sessions, you can reduce to once-weekly sessions until the wedding day.

If you want to target troublesome spots, use our Neck Care Microcurrent Mask for an instant neck lift or our Saint 21 Microcurrent Dual Face Mask to combat dark under eyes and the appearance of fine lines.

Our face masks aren't just for brides, either. If you're looking to pamper your man before the big day, allow him to indulge in the Homme Care Men's Microcurrent Masks which provides a high-quality formulation for anti-aging and skin-smoothing results.

FRANZ face masks all employ microcurrent technology to provide a no-needle, at-home facelift. They've been clinically proven to tone, tighten, and smooth as anti-aging agents.

shop Saint 21 Gold Microcurrent Face Mask

Get Enough Sleep

Get Enough Sleep

Getting a good night's sleep is arguably the simplest way to improve the appearance of your skin. Skin cells regenerate continuously during the day and night, however cell turnover is eight times higher at night than during the day. That's why getting sleep is so vital to the appearance of our skin.

However, getting a good night's sleep can often be easier said than done. Life is stressful, no matter what your daily life looks like. From long work shifts, work meetings, taking care of chores, and making sure to eat healthy - life can demand a lot out of us. That's why there are ways to help yourself get a better night's sleep. Start by setting up a nighttime sleep ritual. This will help your body realize that it's time to unwind and start getting ready for bed.

Another great thing you can do to help promote a better night's rest is to engage in some physical activities during the day. Whether that's going to the gym or taking a walk before the sun sets, there are lots of ways to get your body moving so that you can expend all that extra energy. Getting enough sleep will help keep your skin looking bright and flushed with color. Forget about waking up with dark circles and sallow skin!
The FRANZ Wedding Prep Skincare Kit

The FRANZ Wedding Prep Skincare Kit

It can easily start to feel overwhelming putting together your skincare arsenal before your big day. Ultimately, you'll need a lot of products to give you that 'blushing bride' appearance that we all desire. That's why FRANZ has put together the ultimate in wedding prep. Our Wedding Prep box comes complete with all the products you'll need in just one go to look picture perfect for your wedding photos!

When putting the kit together, it was imperative to put together the products that will result in the best skin for every bride. No matter what your skin type, everything in the box is perfect for any and all skin types. The Saint 21 Microcurrent Dual Face Mask is perfect for reversing any skin damage while the toner, ampoule, and essence all provide deep hydration to the skin with a concentrated list of high-quality ingredients. The Rose Quartz Cream will leave your skin feeling silky smooth while smelling like a delicate rose yourself.

All of these products were selected to give you the perfect base to apply your bridal makeup look. While makeup can be an important part of a flawless look, the state of your skin has an impact on the final application and look of your makeup.

With the Wedding Prep box, you'll feel less stressed out about your skin and have more time to focus on the things that matter!