The DNA of Skincare: What is Hyaluronic Acid (HA)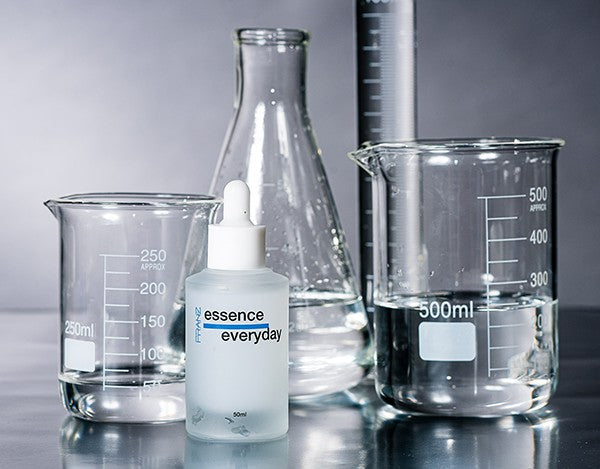 In this article :
What is Hyaluronic Acid, Why is it used in Skincare and What are the Benefits of using HA for your skin?
At FRANZ Skincare, the science behind our beauty tech is what sets it apart. After all, we do offer the world's first microcurrent face mask. So, it may be no surprise that we're obsessed with the ingredients that go into our skincare that are delivered through our innovative system. Since we don't expect everyone to be as science obsessed as us, we're introducing a new series of posts called The DNA of Skincare, breaking down active ingredients from Hyaluronic Acid to Salicylic Acid, AHA vs. BHA, and everything in between. Consider us your skincare ingredients dictionary. Today, we're breaking down one of the most discussed ingredients in skincare: Hyaluronic Acid (HA).
What is Hyaluronic Acid?
Simply put: Hyaluronic Acid is a sugar that is found naturally in our skin that holds water and helps keep it hydrated and plump. It's so impressive, that not only can it hold a thousand times its weight in water, but keep that water from leaving the skin and evaporating into the air. To put that in perspective, just ONE gram of Hyaluronic Acid can hold six liters of water. It also regulates moisture within the skin cells as to not drown them. Not only can Hyaluronic Acid boost your skin's moisture levels, but it keeps your skin hydrated for long term positive effects. You may also find it as sodium hyaluronate, which is derived from HA and is the sodium salt portion of HA that has been isolated.
Why is Micro Hyaluronic Acid Used in Skincare?
With all of that if you're looking for plump, elastic, dewey skin (and honestly, who isn't?) Hyaluronic Acid is going to be a favorite of yours. If a topical product claims to be hydrating, it likely is powered by Hyaluronic Acid. But ageing and environmental aggressors reduce the naturally occurring Hyaluronic Acid in your body, making it an incredibly valuable active ingredient.
What are the Top Benefits of Hyaluronic Acid for Your Skin?
It hydrates and plumps skin, reducing the appearance of fine lines and wrinkles as well as generally reducing signs of ageing
It promotes a healing environment in the skin, reducing redness and dermatitis
It has antioxidant properties, which could protect the skin from environmental aggressors
It's ideal for all skin types, even sensitive, acne prone, or oily skin
Because of all these incredible benefits, Hyaluronic Acid is one of the best skincare active ingredients on the market.
What is the Right Way To Apply Hyaluronic Acid?
There are many forms of Hyaluronic Acid. It exists naturally in your body, for example, but it also exists as injectable fillers (like Juvéderm and Restylane). However, you're likely most familiar with it as the active ingredient in topical products from serums to face masks to moisturizers and more. The most popular Hyaluronic Acid products are serums, which are best used after toner and before moisturizing.
Is Hyaluronic Acid Safe for Daily Use?
Yes! Unlikely other acid active ingredients, it is not exfoliating, making it a great product to use it daily. The hydration is gentle, therefore safe to use frequently, with no likely side effects, if used properly.  All of our microcurrent mask system feature Hyaluronic Acid, in various compounds in the wet Enriching Mask in addition to key nutrients.  This combination of intense hydration and vital nutrition work together to heal skin, reversing and preventing further signs of aging. Two great products to pair are 101 Volumizing Anti-Aging Face Serum applied under your SAINT 21 Gold Microcurrent Facial Dual Mask, both use Hyaluronic Acids of varying sizes to ensure each layer of skin gets a boots of hydration.  We recommend applying a couple drops of serum morning and night.  Once a week use the serum and mask combo.  Your skin will feel instantly hydrated restoring skin's bounce and banishing wrinkles!   
Is all Hyaluronic Acid Equally Effective? What is Micro Hyaluronic Acid

 (Micro HA)
Not all Hyaluronic Acid products are alike. The trick to Hyaluronic Acid is the size of the molecule: it's often too large to effectively deliver hydration deep into the layers of the skin. As skincare scientists, we want to use this genius ingredient to its highest capacity which is why the Micro Hyaluronic Acid molecules in our products are 300x smaller, allowing them to deeply penetrate the skin for long lasting hydration. By hydrating your skin on every level, this allows for more meaningful repair for longer term results. Think of Micro Hyaluronic Acid as your boost of hydration, helping to plump and firm skin, reducing fine lines, your best ally for anti-aging. 
What FRANZ Skincare products contain Hyaluronic Acid or Micro Hyaluronic Acid that helps to 

moisturize dehydrated skin

?
What is our best moisturizing combo? Layer up, Everyday Essence Face Serum under the Premium Microcurrent Facial Dual Mask, the perfect boost of hydration your skin needs, especially during these dry winter months. Everyday Essence features a Hyaluronic Acid Complex, various size molecules penetrate from the surface to your inner skin. The Premium Microcurrent Facial Dual Mask uses Micro Hyaluronic Acid, these molecules are made to target your inner skin, for long term hydration. From the top layer to the deepest healing, this power duo will rebalance skin's moisture levels and protect against further dehydration. 
Whether you are suffering from dry skin or you just need a dewy glow, Hyaluronic Acid is a must-have ingredient for every daily skin care routine.