Drew Magazine- Have a Beautiful Day: Party Edition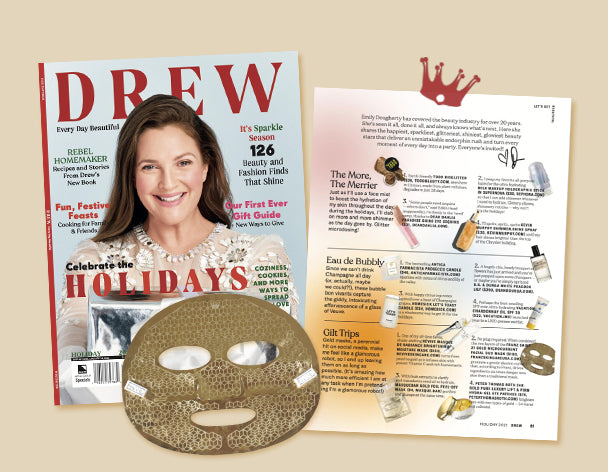 In this article :
The FRANZ Saint 21 Gold Microcurrent Facial Dual Mask
 was included in the Winter 2021 issue of Drew Magazine.
Emily Dougherty shares
the happiest, sparkiest, glitteriest, shinest, glowlest beauty stars
that deliver an unmistakable endorphin rush
and turn every moment of every day into a party.
Gilt Trips
Gold masks, a perennial hit on social media, make me feel like a glamorous robot,
so I end up leaving them on as long as possible (It's amazing how much more efficient I am at any task when I'm pretending I'm a glamorous robot!)

No Plug required: When combined,
the two layers of the FRANZ SAINT 21 GOLD MICROCURRENT FACIAL DUO MASK ($100)
generate a gentle electric current that, according
to Franz, drives ingredients six times deeper
in to skin than a traditional mask.