The DNA of Skincare: Aloe Vera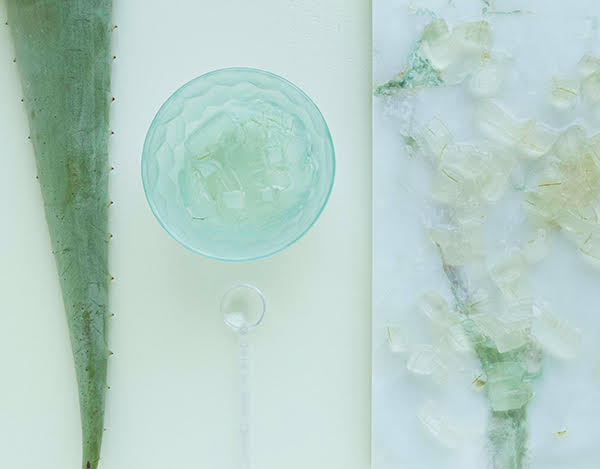 In this article :
Benefits of Aloe Vera as a Skincare Ingredient
At FRANZ Skincare, the science behind our beauty tech is what sets it apart. After all, we do offer the world's first microcurrent face mask. So, it may be no surprise that we're obsessed with the ingredients that go into our skincare. This series "The DNA of Skincare" discusses the active skin care product ingredients that we love. Consider us your skincare ingredients dictionary. Today we're breaking down the benefits for aloe vera: a key component to our groundbreaking Skin Saver Maskne Prevention Antimicrobial, Washable and Cooling Mask Liner.
What is Aloe Vera?
Aloe vera is a natural ingredient derived from the leaves of the plant by the same name. It's rich in vitamins (such as A, C, D, and E), amino acids, polysaccharides, and phytosterols, and also minerals, like zinc, potassium, and magnesium and more. In fact, there are more than 75 incredible chemicals making up the aloe vera plant.
What are the benefits of Aloe Vera used in skincare products?
Below are our benefits of aloe vera and why aloe vera is used in skincare and beauty products.
Skin Soothing
Known for soothing irritations and itchiness, this is one of the things aloe is best known for.
Cooling
Hand in hand with soothing, aloe is great at cooling skin, which is why it's such a good treatment for sunburns.
Hydrating and Aiding with Dry Skin
Because aloe is 99.5% water, it hydrates the skin incredibly effectively. It contains mucopolysaccharides, which helps retain the water as well.
Anti-inflammatory
Anti-inflammatory properties make it particularly good at treating burns.
Diminishing Dark Spots
Aloe contains a natural depigmenting compound that has been shown to lighten skin and work effectively as a nontoxic hyperpigmentation treatment.
Remedy for Acne Scars
Similarly to diminishing dark spots, aloe can aid as a remedy for lightening acne scars.
Prevents Transepidermal Water Loss
Transepidermal water loss occurs when skin is dehydrated, which can lead to dryness and inflammation. Aloe vera can help with creating and preserving the protective barrier of hydration that stops this loss from occurring.
Anti-aging
Because it's so hydrating and moisturizing, aloe can help address fine lines, wrinkles, and other signs of aging due to dry skin.
What are the side effects of Aloe Vera?
Just like any other ingredient, there is a possibility of an allergic reaction. However, aside from a sensitivity to aloe vera, you don't really need to be concerned about any negative side effects.
Do products with Aloe Vera hydrate or dry out your skin?
When the incredibly moisturizing properties of this ingredient are added to skincare, you'll likely to see the benefits of that on your skin.
During the summer we all use Aloe Vera for our sunburns. Aloe Vera both heels and hydrates to cure our burns or small cuts, restoring skin to it's smooth, supple state fully moisturized.
How do I apply Aloe Vera gel on my face or skin?
Aloe vera can come in many different forms. You can use aloe vera directly from the plant. In addition aloe vera comes in gel, powder, and liquid form, as well as a featured ingredient in some skincare products.
For topical aloe use, simply apply to the affected area as often as needed. Be sure to use any aloe product as directed.
You can also ingest aloe vera, however there can be side effects and dosage is important to be sure to exercise caution when ingesting aloe vera. However, the most effective way to see the benefits of aloe for skin is to apply it topically.
How do I add Aloe Vera into my skincare routine?
Aloe Vera for a DIY Face Mask
There are a few great ways to add aloe vera into your skincare routine.
Firstly, you create a great DIY face mask. You can mix it with honey which has wonderful antibacterial and moisturizing properties. You could also mix in yogurt for its pore-cleansing lactic acid, or even cucumber for its cooling properties.
Aloe Vera a Spot Treatment
For acne breakouts, add a bit of aloe to the affected area and let it sit on the skin overnight for clearer, brighter skin the next day.
Aloe Vera as a Puffiness Cure
Apply a little aloe vera under your eyes for cooling and depuffing for bright and smooth skin.
Can I use Aloe Vera as a moisturizer?
Yes! Aloe is a gentle and effective moisturizer. You can use the thick sap right from the leaf and replace your normal moisturizer. You can also add it on your skin right before your hydrating oil or cream.
Can Aloe Vera help get rid of fine lines & wrinkles?
Yes! Because of how hydrating and moisturizing this ingredient is, fine lines and wrinkles are filled out, leaving skin plump, firm, supple, and younger appearing.
What skin concerns should I use Aloe Vera for?
Aloe vera is great for most minor skincare concerns, like sunburn or windburn but do not use aloe vera on deep cuts or severe burns. Aloe is great for first degree and second degree burns, but third degree burns should be treated by a medical professional and you should follow doctor's instructions in post care.
Is Aloe Vera good for sensitive skin?
Yes! If you have sensitive skin, the vitamins and nutrients in aloe vera can nourish and soothe your skin without causing irritation. Bonus, it also doubles as a great aftershave for men and women!
How does FRANZ use Aloe Vera in their products?
Aloe vera is infused into our groundbreaking Skin Saver Maskne Prevention Antimicrobial, Washable and Cooling Mask Liner. This mask liner protects skin by keeping it dry, killing bacteria and is infused with aloe vera that is woven in the fibers to soothe skin, keeping it soft and smooth.
Aloe Vera is an incredible, natural 

ingredient

Aloe Vera is an incredible, hyper moisturizing ingredient. Packed full of nutrients, vitamins, and packed with water, aloe vera is a great natural ingredient that works for a variety of skin concerns from dry, irritated, and sensitive skin to anti-aging, dark spots and more.