Benefits of Multi-Masking for Your Skin, Two Layers are Better Than One!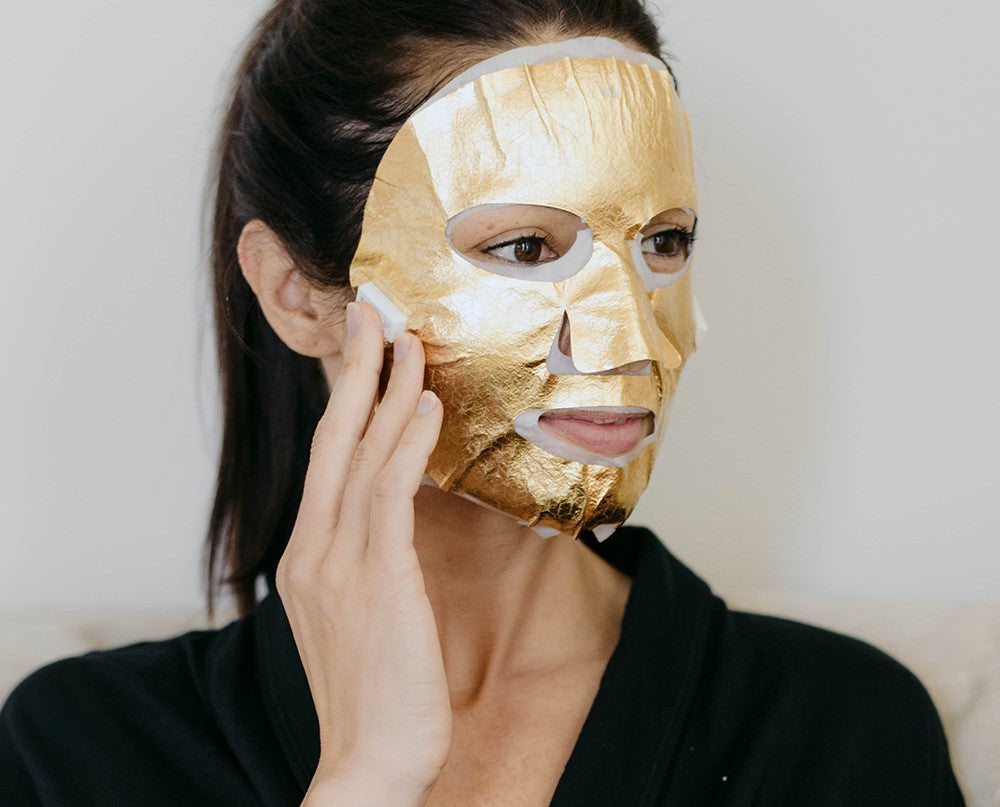 In this article :
Why are there two sheet masks in a set—do I need them both?
Think of our facial masks like a cocktail; would a martini really be a martini without the olive?  Sure, but wouldn't you rather have that extra crunch of the olive at the end? Our Enriching Mask (wet) is your layer of nutrients, and the Empowering Mask is the microcurrent boost, or that extra "crunch"!
How to use the FRANZ Dual Sheet Mask System
How does our Facial Dual Mask Set work for all skin types?
The two work together as your anti-aging, hydrating, and healing powerhouse.
Our masks are formulated for all skin types, from dry skin to oily skin or even sensitive skin; no matter your type, we have you covered to restore any damage and on your way to glowing skin. The nutrient rich, wet Enriching Mask will supply your skin to restore its proper hydration, and then work to plump, smooth and visibly reduce signs of aging. Many skincare products use Hyaluronic Acid, a powerful ingredient to hydrate and help skin retain moisture. We, on the other hand, use Micro Hyaluronic Acid; this molecule is 300x smaller than what is used in most topical products. The extra small molecular mass is absorbed deeper into the skin, boosting its ability to retain moisture and creating a skin-plumping effect to visibly reduce fine lines and wrinkles.
What are the active ingredients used in our Sheet Mask Set: Collagen simulating Retinyl Pamitate
We also use the gentlest Retinyl Pamitate, derived from Vitamin A to boost collagen and aid in cell turnover, making it perfect to heal dry or damaged skin. Stimulating collagen production plumps skin for a more even, youthful appearance. Oftentimes, Retinyls can be very strong or even give you a burning sensation. Not in our formula—don't be scared! The rest of the blend contains Peptides to stimulate collagen production, a key ingredient in strengthening your skin barrier for protection against environmental stressors, and Panthenol, an anti-inflammatory which soothes itching or redness.
Facial Dual Masks Boost Results for Your Skin
Sure, you could use this as a single sheet mask, but why not boost the nutrient effects and naturally tighten and tone your skin? At Franz, we figured you would choose the latter. Most sheet masks will give you surface level results. The Empowering Mask uses our Tissue X™ technology, which delivers the serum's ingredients 6x deeper into the layers of your skin, the inner skin where all significant healing takes place. The silver grid pattern is what distributes the microcurrent technology "the power" that generates healing waves to tighten and tone your skin—aka an at-home facelift. Adding the Boosting Essence is the elixir that initiates the microcurrent activation. Similar to a body massage, the Enriching Mask is the oil and Empower Mask is the masseuse. The two have been formulated to enhance each other.
What is the strongest, most effective anti-aging spa at-home mask?
For our strongest spa at-home mask use our Saint 21 Microcurrent Facial Dual Mask. The luxe gold coating adheres to skin better, for even more absorption, and separate patches are formulated for the delicate eye and lip area, ideal for deep lines and advanced signs of aging.  We recommend this for more serious signs of aging.
What Facial Dual Mask is great for preventative skincare?
Our Premium Microcurrent Facial Dual Mask is great for preventative care for prominent signs of aging or to reduce the first signs of aging. If you have 25 minutes, you have time for our microcurrent masks-your facelift at-home. No downtown, no needles, just nourished, hydrated skin to brighten your skin and reduce signs of aging.  To reset your skin, we suggest masking twice a week for two weeks, then for continued maintenance just once a week. 
Whatever your facial skincare needs may be, Franz has a powerful solution that will leave you feeling refreshed, rejuvenated and more youthful than ever.