Dermatologist-Approved: A Hydrating Face Serum for Smoothing Skin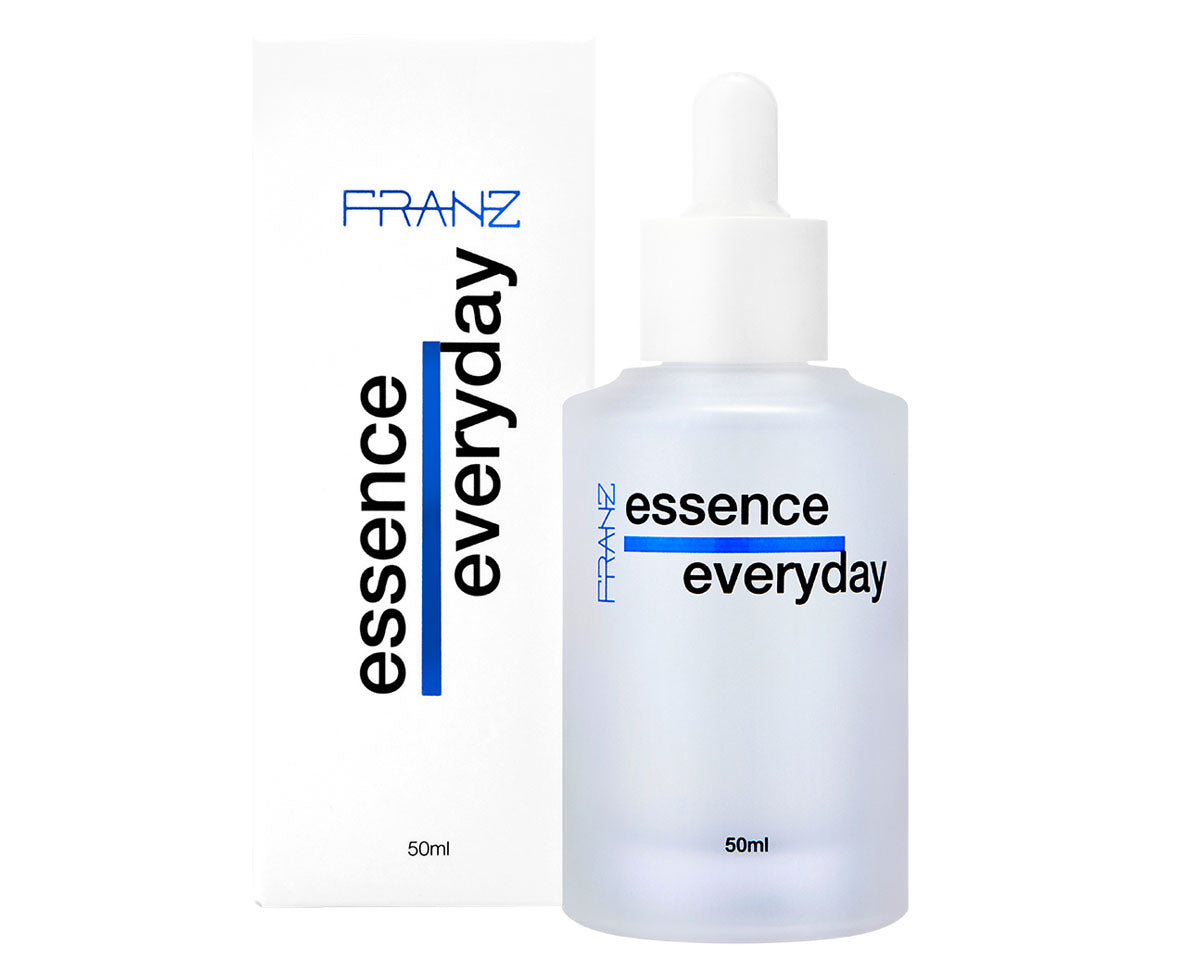 In this article :
FRANZ Everyday Essence Face Serum for daily hydration & smoothing skin
In the past few months, we have spent much more time at home. At first, some of us probably thought that we could relax more since we were saving time on commuting and going out; yet, most of us learned that we're actually pretty swamped at home with piles of duties and chores. Whether we are essential workers venturing out into the world to work, or working from home, one thing remains true: We're constantly trying to stay on top of our responsibilities and may find ourselves tired and stressed out.
Dark eye circles, age spots, a dull complexion and sagging skin— when did it all start happening? We often wonder what the best solution is to keep our skin looking and feeling at its prime, but does anyone really have the time or energy to keep searching for the best skin care regimen possible?
There are over 1 million skin cells in every square inch of our skin. The science of skin cells is multifaceted and complicated. Our most critical skin problems change as time, environment, and climate evolves. While some of us may be most concerned about firmer skin now, it's possible that in a week's time, our concern may shift to lack of moisture, or age spots, or all of the above.
Skincare Solutions to Correct our Skin Concerns
How to get hydrated, smoother skin
We all dream of having the perfect skincare solutions to correct our skin concerns. Now that dream can be a reality for everyone thanks to Franz Skincare's dermatologist-approved lineup of first-of-its-kind microcurrent face masks, neck masks, eye masks, and of course all-in-one serums, essences, and face creams, designed for both men and women of all skin types and concerns.
Founded in South Korea, Franz Skincare was created with one goal in mind: To bring a smile to your face after experiencing a drastic visible difference in your skin. In collaboration with 7 top science institutes in the world, Franz Skincare continues to develop the world's top-notch skincare with years of proven technology and research.
It's no wonder Franz Skincare has developed a cult following in niche markets such as well-established dermatology offices and medi-spas, and of course, with loyal consumers around the world. Franz Skincare is now available online for anyone who wants to experience healthy, younger-looking skin from the comfort of their own home.
Designed as a solution-oriented skincare treatment for all skin types, FRANZ Everyday Essence Face Serum is highly packed with the most powerful yet gentle ingredients to solve multiple skin problems. 
This advanced lightweight formula combines 10+ naturally-derived potent ingredients to boost moisture, nourish skin, help fight signs of aging, and accelerate skin cell turnover. Expertly formulated to deliver layers of hydration without all the extra steps of a multi-step routine, our signature hydrating booster works day by day to deliver total skin transformation in the long term. 
Benefits of Everyday Essence Face Serum
Lightweight formula melts luxuriously into skin to for an instant moisture boost
Fights signs of aging, minimizing the look of deep-set fine lines and wrinkles
Plumps skin while evening out skin tone for a natural dewy and radiant appearance
Key ingredients of Everyday Essence Face Serum
Hyaluronic acids in various sizes (maximizes delivery to every layer of your skin for maximum efficacy)!
Ceramides, which are lipids (fats) that make up over 50% of skin's composition. Their role? They form a protective barrier that limits moisture loss, protecting skin from visible damage that can occur from pollution and other environmental stressors
Xylitylglucoside, derived from water-binding plant sugars to help add an extra layer of hydration and moisture
Vitamin Complex, packed with 10 different vitamins that help give skin a boost of antioxidants
Minerals (Magnesium, Zinc, Copper Trio) that help boost skin's immune function
Powered by 8 types of hyaluronic acids, multi-potent peptides, and natural extracts such as evening primrose and sage leaf, this serum serves as the perfect daily booster against wrinkles, UV rays, environmental pollution and even indoor toxins. Plus, thanks to its unique Sebum Control Complex, it also helps control excess shine throughout the day, so skin stays looking and feeling fresh, not greasy.
Did you know — the thickness of skin is different for men and women? That's why Franz Skincare introduced Homme Care Super Energizing Face Serum as an all-in-one serum designed specifically for men.
This innovative lightweight, non-greasy formula instantly brightens and smoothes the skin to deliver a younger-looking complexion. The no-sting application is also perfect for sealing in moisture after shaving!
Moisturizes all layers of skin while protecting with natural nourishing ingredients
Smoothes, firms, and plumps skin, minimizing the appearance of lines and wrinkles
Instantly revitalizes with extra boost of radiance and glow
Lightweight, no-sting formula is perfect for use after shaving
For best results, apply 3-4 drops directly onto your face and neck. Gently pat into skin until absorbed. Use morning and evening.