How Stem Cell Serums Benefit Your Skin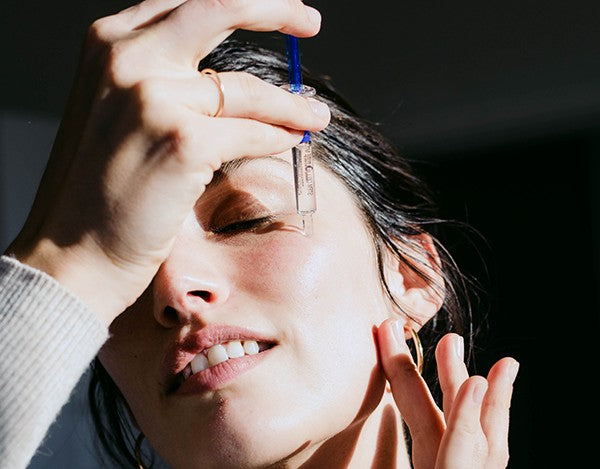 In this article :
Stem Cell Skincare 101: Decoding the Stem Cell Serum & Ampoule
Stem Cell Serum for Anti-Aging, Reducing Fine Lines & Wrinkles & Increasing Skin Elasticity
The most innovative skin care product on the market starts from the cellular level.
FRANZ Skincare USA's Stem Cell Culture Medium Ampoule with 10% concentration stem cell culture medium, growth factors, and ceramides is more powerful than similar products on the market, especially when used in conjunction with FRANZ's powerhouse dual masking kits like Premium Microcurrent Facial Dual Mask or the SAINT 21 Gold Microcurrent Facial Dual Mask.
Though we are thrilled to share our latest dermatological breakthrough with you, we also understand that stem cell skincare is still a very new technology and, therefore, may be linked to misinformation rather than facts.
Because our award-winning products ("Top Skincare Face Mask" and "2020 NewBeauty Awards: Innovations") feature human-adipose-derived stem cells, we are especially sensitive to concerns that the stem cell skincare production process is unhealthy or even unethical. Therefore, we'd like to take this opportunity to address your concerns directly in this post focusing on stem-cell technology and skincare.
Stem Cells in Skincare FAQs
In today's post, we'll start with the most frequently asked questions:
What are stem cells?
Because stem cells have the potential to develop into many different types of cells they are the body's natural repair system. They are a specific type of cell in a living organism with the superhero-like ability to divide, pinpoint tissue damage, and then rapidly specialize in order to reverse the damage, heal, and sometimes even regenerate damaged cells.
Stem cells are not unique to humans; plants have them, too.
In 2020, the trend in using stem cells in skin care have resulted in the majority of U.S. brands boasting "miraculous," stem-cell-based formulas featuring stem cells from plants and not stem cells derived from human-adipose tissue. While plant stem cells possess amino acids and other proteins that can have a positive effect on the skin, their potential for significant human skin cell regeneration and healing isn't anywhere close to that of stem cells derived from humans.
How do Stem Cells help with anti-aging and other skin issues?
When applying this technology to skincare stem cells are a major multitasker, from anti-aging to simply healing damaged skin the cells will target SOS areas to help heal. Key factors for aging skin are, wrinkles, fine lines, loss of elasticity and dark spots, essentially damaged skin. Stem cells work stimulating cell growth activating collagen while protecting skin against any future damage and moisture loss. You can also apply our Stem Cell Culture Medium Ampoule immediately to a sunburn to speed up the healing process.
What is the difference between plant stem cells and human-adipose stem cells?
If the idea of harvesting cells from human donors makes you uneasy, you may be comforted to know that the donation process is similar to that of bone-marrow donation.
However, human-adipose stem cells are derived from fat (not embryonic stem cells), making the process much easier, less painful, and has already been tested for decades via liposuction techniques. What both processes have in common are: they are voluntary, ethically conducted and are strictly regulated and vigorously tested to keep all involved parties healthy and happy.
What makes FRANZ's Stem Cell Culture Medium Ampoule more effective than other stem cell skincare products?
FRANZ 's Stem Cell Culture Medium Ampoule is different from other stem cell extract skincare products for several reasons, but the most significant is that it is formulated with 10% concentration stem cell culture medium made from human-adipose-tissue, featuring growth hormones and ceramides.
This formulation is a genuine scientific breakthrough that required decades of research and hard work to bring to market. Not only does premium skincare require the best ingredients; but also the best skincare must deliver those ingredients into the skin effectively.
Our promise to our FRANZ community is that we will not only develop the most scientifically innovative and effective ingredients, but also exceed industry standards when it comes to our skincare's ability to penetrate and absorb into your complexion, so your skin heals from the inside out.
This is why our skincare products can deliver SIX TIMES the results of our competitors.
FRANZ Skincare USA's Bare Skin Stimulating Stem Cell Culture Medium Ampoule Main Ingredients
What are the benefits of using stem cells in skin care products?
In a recent study conducted by Refinery29, American women between the ages of 15 to 60 consistently cited the same skin concerns: acne, sun damage, scarring, hyperpigmentation, fine lines and wrinkles, sagging, loss of elasticity, dry skin, and dullness/or uneven skin tone when it comes to ageing skin.
Every single one of these skin concerns are not an illness or solitary health problem; they are symptoms of damage incurred from environmental, physical, and mental stress, exposure to free radicals, gravity, and your body's natural processes beginning to slow down as you age.
Most skincare products merely disguise or temporarily camouflage these skin concerns, but FRANZ's Stem Cell Culture Medium Ampoule is formulated to actively reverse the damage that is at the root of the symptoms which present as skin concerns. In this way, stem cells are particularly great when it comes to anti-ageing skin care.
There you have it: the real-deal behind stem cell use in skin care! Are you ready to give it a go?
While we recommend pairing the serum with our Premium Microcurrent Facial Dual Mask, you can also use the Stem Cell Culture Medium Ampoule on its own for great results. Go ahead: try this groundbreaking product and watch your skin hydrate and regenerate before your eyes.