Useful Gift Ideas Any Mother-in-Law Will Love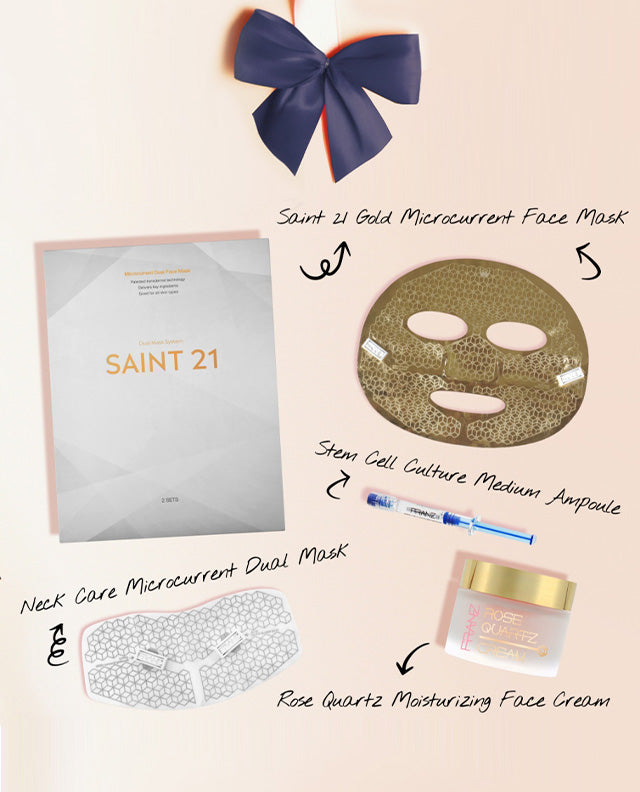 In this article :
Great mothers-in-law are like a second mom, but that doesn't mean they're always easy to buy for. And whether you're buddy-buddy with your MIL or only see her during the holidays, you're probably looking for the right thing to get her. Thankfully, we have some gift ideas for mothers-in-law that will work for even the pickiest matriarchs.Every woman can appreciate a good skincare routine, but it can be challenging to know what's actually good quality. Make it easy this year by getting your mother-in-law the latest in anti-aging skincare technology.
For the mother-in-law

who loves masks:
Saint 21 Gold

Microcurrent Face Mask
shop Saint 21 Gold Microcurrent Face Mask
There's no better way to say "self-care" than with a relaxing face mask for a mother-in-law who unwinds with her favorite skincare treatments. And instead of worrying about spa appointments and travel time, she can enjoy salon-quality care from the comfort of home.
Plus, this mask has true anti-aging benefits — beyond just feeling nice. It comes in a pack of two masks plus Bye Wrinkle Spot Patches for under the eyes and around the mouth.
The gold microcurrent mask is indeed the "gold" standard because it uses Franz Skincare's
Tissue X® technology
that penetrates
six times deeper
than
topical face masks
. The mask releases anti-aging ingredients that get deeper into your mother-in-law's skin for true healing and rejuvenation. The gold coating turbocharges the effects for clinically-proven toned and tightened skin.
If your mother-in-law is interested in reviving and resetting the advanced signs of aging, this one is an easy choice!
For the mother-in-law

who complains

about saggy skin:
Neck Care Microcurrent Mask
shop Neck Care Microcurrent Mask
After a certain age, we all start dealing with loose or saggy skin, especially in the neck area. If your mother-in-law is particular about this area, introduce her to this non-invasive "facelift" for neck skin. You might even buy a second one for yourself and suggest you use them together for some bonding time!
Using the same microcurrent technology as our face masks, the neck mask lifts, firms, tightens, and reduces fine lines that come with aging. The anti-aging mask ingredients are also deeply hydrating to keep the skin softer and smoother.
For the mother-in-law

who always

carries

hand cream

:
Microcurrent Glove Kit
shop Microcurrent Glove Kit
Did you know your hands are the first body part to show signs of aging? If your mother-in-law loves her hand creams, she probably does! 
Or, maybe she just hates dry hands and loves the smell of creams. Either way, a microcurrent glove kit is a thoughtful (and helpful!) gift idea for a mother-in-law who cares about her hands. 
The advanced anti-aging hand cream in the glove kit is lightweight but contains powerful ingredients like a vitamin complex, triolein, and sweet almond oil. The microcurrent gloves release vital ingredients like shea butter, aloe vera, and vitamin E. All you do is apply the hand cream, put on the microcurrent gloves, and wait 20 minutes. 
According to
Cleveland Clinic
, moisturizing regularly is one of the best things you can do to prevent aging hands. So, the glove kit is a gift that keeps on giving!
For the mother-in-law who's a little nerdy:
Stem Cell Culture Medium Ampoule
shop Stem Cell Culture Medium Ampoule
Does your mother-in-law appreciate the newest technology or science-based skincare? A stem cell ampoule might be the perfect fit for this holiday. She can repair and protect her skin while marveling at one of the newest innovations in skincare.
Stem cells "turn on" the body's ability to turnover cells and create younger, smoother skin. This ampoule uses a 10% concentration of human-adipose-derived stem cell culture that stimulates cell growth and collagen production. The ampoule is a 100% safe tool for anti-aging and—if we may say so ourselves—just plain cool.
For the mother-in-law

who enjoys

floral scents:
Rose Quartz

Moisturizing Face Cream
shop Rose Quartz Moisturizing Face Cream
This is also an excellent option for the mother-in-law who is hard to buy for or has everything. You can rarely go wrong with a lovely face cream. Plus, this one comes with deeply hydrating, anti-aging ingredients and the power of rose ingredients.
The face cream has a beautiful pink color and a light wildflower scent. Ingredients like rose flower oil, rosewater, and Centella Asiatica extra help even skin tone and fight signs of aging. It's also perfect for the holiday months when hydrating is key.
Best Gift Ideas for a

Mother-in-Law
Buying for your mother-in-law during the holidays is challenging for many of us. But don't overthink it. Most women enjoy high-quality skincare products, and you'll be getting her something valuable that she might not think to buy herself. 
Besides skincare products that combine science with nature, other nice Christmas gift ideas for a mother-in-law include:
Natural spa gift box

Teapot and cup set

Simple jewelry based on her style

Digital picture frame

Nicely-scented candles

Lavender sleep mask

Soft bathrobe
Hopefully, this list has given you some ideas for gifts to get your mother-in-law this year. Just remember: it's the thought that counts most of all!
shop All FRANZ Skincare Products