Extra TV features FRANZ Premium Microcurrent Mask in a Holiday Gift Bag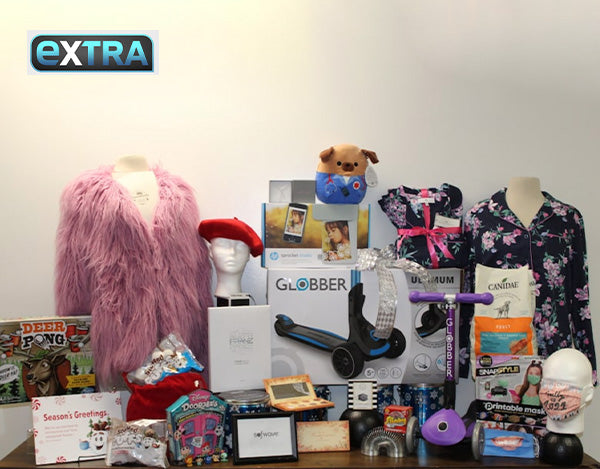 In this article :
Win It! A Holiday Gift Bag
Celebrate the holidays this year with this prize pack from celebrity gifting experts Backstage Creations (the company that produces the Official Celebrity Gift Bags for the Emmys and MTV and other shows). Your prize will be full of goodies for the entire family, from toys to pet food and beauty to fashion.
This prize includes:
Canidae Pet Food — Canidae packs more goodness in every cup with premium proteins, nutrient-rich ingredients, and vet-formulated recipes like Salmon & Brown Rice dog food. Prize includes a leash.
FRANZ Skincare USA — The Premium Microcurrent Facial Dual Mask, the next step in Korean beauty tech, helps tighten and tone skin, plus the Tissue X™ microcurrent technology is your face-lift at home, with no needles or downtime.
Globber — Stylish and sure to give consumers the most bang for their buck, Globber offers award-winning scooters with a range of patented innovations to adapt to everyone in the family — without compromising on style or functionality!
Hasbro Gaming Deer Pong — A great gift for the holiday season — you won't know what to expect with the wisecracking Bucky the Stag, the talking deer who amps up the fun in this funny and frantic race to be the first team to land its three balls in the antler cups!
Honeybee Gardens — The Nude Renaissance Palette features expertly crafted, highly pigmented neutral shades that go beyond beige to complement any skin tone effortlessly.
HP Sprocket Studio — Print high-quality 4x6" photos directly from your smartphone using the HP Sprocket Studio Instant Photo Printer.
Just Play — ◦ Slinky — Celebrating 75 years of wiggly-jiggly fun, generations have loved playing with Slinky, the classic metal spring toy that walks downstairs, alone or in pairs, and makes a slink-ity sound. ◦ Disney Doorables — Discover the ultimate unboxing experience with Disney Doorables Multi-Peek Packs by opening each door to reveal 5, 6, or 7 1.5-inch collectible figures, featuring favorite characters!
Karen Neuburger — Famously discovered by Oprah Winfrey, Karen Neuburger is built upon the idea that the best moments in life are experienced in pajamas nestled with the utmost in exceptional comfort, timeless silhouettes, and unique prints.
Links & Locks — Links & Locks mask chains are a great way to keep your mask handy AND be stylish at the same time! • Skyrocket Toys — Create a customized disposable face mask from any picture, pattern, or design printed on your home printer on 100 percent cotton fabric — no sewing required!
Sofwave™ — Sofwave™ breakthrough, non-invasive Synchronous Ultrasound Parallel Beam Technology Superb™ is FDA-cleared to improve facial lines and wrinkles. Prize includes a candle.
SpiritHoods — SpiritHoods is an animal-inspired apparel brand dedicated to the conservation of wildlife (10 percent of proceeds go to endangered species), the celebration of life, and our connection to each other. Prize includes poncho or scarf.
Squishmallows by Kellytoy — Squishmallows are super soft, cuddly plush toys that come in a variety of sizes, animals, and colors to cuddle, collect, and gift, and while popping with personality, each Squishmallows character's name and background story is detailed on its hangtag.
Stuffed Puffs® — Stuffed Puffs® are marshmallows filled with real milk chocolate that are great for toasting, roasting, baking, and snacking. Prize includes a mug.
Sweet Rosie Jewellery — Constellation Zodiac necklace in sterling silver with a touch of diamond sparkle. • Unique Vintage — The Unique Vintage Retro Gift Guide has something for everyone on your list, from geek to chic. Prize includes apparel. Items in photo subject to change based on availability; some colors and styles may vary. Courtesy of Backstage Creations.