FRANZ Microcurrent Facial Dual Mask Featured in Forbes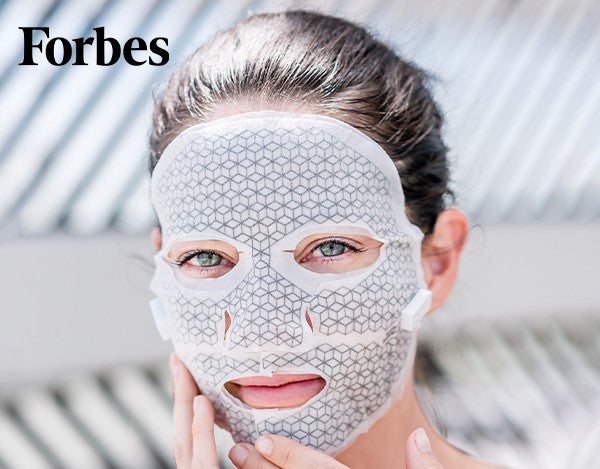 In this article :
Joseph DeAcetis Contributor
Style & Beauty
I cover luxury fashion. 
In 2020, a symbol of confidence is the perfect companion as the year (thankfully) comes to a close. Americans are turning over a new leaf after being quarantined and pushed forward growing accustomed to a home-hibernated lifestyle. Nowadays, breaking from the tradition has given rise to the public forefront —where a socially distant meeting isn't so distant any-longer.
Nonetheless, beauty is a gesture, a symbol of self-assurance that transcends to self-care while remaining true to creating something more modern. The silver lining to 2020, is that given the endless hours spent at home, many Americans came across a new found peace and serenity. In turn, a straight path forward to curate and maintain a healthy lifestyle.
To mark the most memorable moments, home workouts did not go unnoticed. In addition, binge buying had its place to fill a chapter of satisfaction. But what about beauty regimes? Well, that continued to hold its own during this era of self-isolation and wellness. After all, strong willed optimism to return to the once dreaded daily-grind will bestow itself upon us in the near future. 
Over the years, innovative treatments in skincare brought forth a fresh new set of revolutionary products and devices that have been entering the market segmentation. For example, Dr. Dennis Gross has pioneered an LED (light emitting diode) device that not only succeeds in its wrinkle reducing and acne fighting purpose, but rather transports you to a world of futuristic rejuvenation —as you place this sci-fi mask on your face.
As businesses across the country begin to open their doors again, Dr. Barbara Sturm is providing extensive knowledge and intricate detail into the scientific formulation of serums —such as her Anti-Pollution Drops that replenishes skin from HRV blue light, ejected from digital devices; something mankind cannot escape in modern times.
In fact, celebrity makeup artist Marie-Josée Leduc attests that using pure natural oils is the best path forward. Ms Leduc recently launched Odièle, a skincare line where the products are a cocktail of active botanicals and devotedly organic. "Let go of the harsh chemicals" Leduc tells us. "Scale it back a little and go gentle". More to the point, Gen Z advocates sustainability, a key factor to the largely lucrative industry. "There is a small group of us who look at the big picture. I can't make money knowing that I am harming the environment", Leduc preaches with strength to pave an organic pathway for those that follow. 
Now that the world is getting closer and closer, the next chapter is confidence and hope. Americans are rediscovering comfort and security found in beauty and wellness. As tough as 2020 has been, people are feeling refreshed and replenished to take on the next chapter. To help you begin your fresh skincare and wellness regiment, I have reviewed a handful of the best products and services developed to stand the test of time.
Franz Skincare:
The Franz Microcurrent Facial Dual Mask is an award-winning microcurrent facial treatment delivered in a dual-layered mask (set of 2 treatments). The first of its kind, this dual mask system is powered by water energy—not batteries—to create tiny waves across skin, letting the mask's essences go 6x deeper than the leading face mask* for max results. Price: $50