FRANZ SKIN SAVER MASK LINER by Plastic Surgery Practice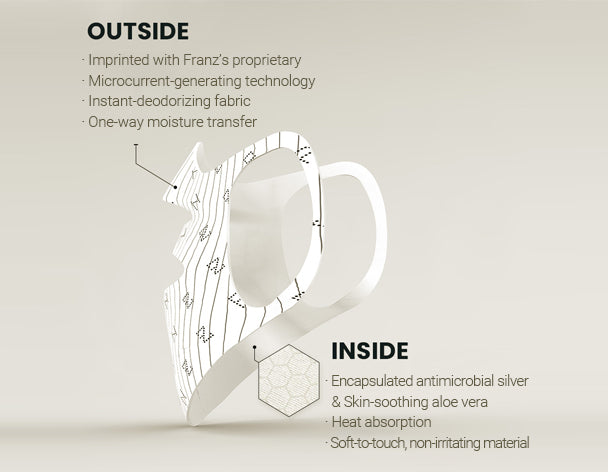 In this article :
FRANZ SKIN SAVER MASK LINER HELPS PREVENT MASKNE, PROVIDING SOME DOCTORS WITH COMFORT
Microcurrent-generating XTM technology fabric is designed to eliminate moisture and humidity under the N95 respirators and surgical masks.
By Tonya Johnson
FRANZ Skincare USA has introduced a microcurrent mask liner called the FRANZ Skin Saver. This product is a preventative, wicking and cooling mask liner designed to absorb and release moisture from the skin leaving it fresh, cool and dry, inhibiting "maskne," acne or rashes from forming.
Worn under a protective face mask, the FRANZ Skin Saver mask liner is reusable and washable. Its instant-deodorizing, antimicrobial fabric features FRANZ Skincare's proprietary tissue XTM microcurrent technology manufactured to deeply deliver soothing, healing ingredients to the skin. It also comes with an antimicrobial copper pouch to safely store the liner, kill germs and bacteria—keeping the mask liner clean and sanitized. Suitable for all skin types, the mask liner can be hand washed and reused.
FRANZ Skincare's proprietary fast-absorbing, quick-drying fabric traps and diffuses away moisture, and eliminates humidity, keeping skin fresh and clean. The antimicrobial technology woven fabric is designed to kill harmful and odor-inducing bacteria. Encapsulated Aloe Vera is also woven within the fabric to soothe skin via FRANZ Skincare's patented tissue XTM microcurrent technology.
"The preventative, moisture wicking, and cooling properties of the FRANZ Skin Saver Mask Liner is proven to shield against common skin concerns and temperature fluctuations," says Myounghoon Jang, founder and chief executive officer, FRANZ Skincare USA. "We have received outstanding feedback from the medical staff at Mount Sinai West in New York City, noting improvement in skin hygiene and general comfort when worn under N95 respirators and surgical masks."
ICU team members from Mt. Sinai comment: "These mask liners are an absolute godsend. The big pocket of air trapped between my face and my N95 mask usually makes me feel so gross and wet — and it's so distracting while I'm work it in the hospital. This has helped decrease acne breakouts and provided general comfort."
"I've been breaking out so much because of all of the masking. This mask liner has helped me so much with keeping my face clean, especially if I've had to reuse a mask due to mask shortages."
WHAT'S NEXT IN TECHNOLOGY?
"We are proud to continue to grow FRANZ Skincare by bringing high-tech skincare for hands with the new Hand Care Microcurrent Glove Kit. Providing deep repair and hydration especially for over-washed, extremely dry hands, the Hand Care Microcurrent Glove Kit also aides in visibly diminishing the appearance of fine lines" says Jang. "The fabric of the Hand Care Microcurrent Gloves is charged with encapsulated shea butter, vitamin E and aloe vera, and features our proprietary microcurrent technology. The kit also includes a Hand Care Intensive Boosting Essence that's specifically formulated to be paired with the microcurrent gloves, and an Antimicrobial Copper Pouch for storage."
Tonya Johnson is associate editor of Plastic Surgery Practice.