Face Lifting Mask:
Can You Receive a Facelift from a Sheet Mask?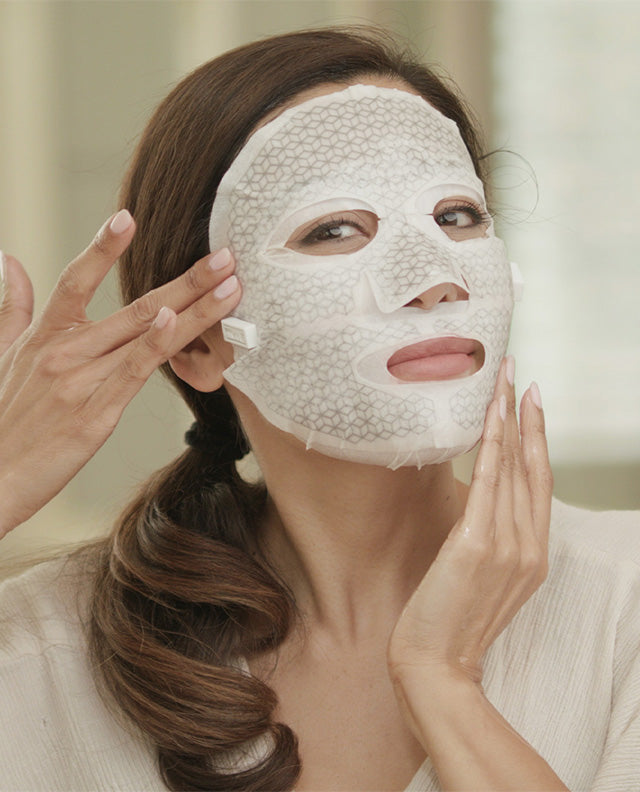 In this article :
Facelifts are more popular than ever. We want lighter-feeling, tighter-looking skin to appear younger. However, facelifts are severe surgical procedures with long recovery times. If you're looking for another method (that you can do in the comfort of your own home), consider an advanced microcurrent sheet mask. These face lifting masks can achieve a similar look with the power of microcurrent technology.

Do face lifting masks really work?

When evaluating if a skincare product will work, it's best to look at:

The mechanisms behind how the product works, and
Any research to back up the product's claims

So, let's consider: what is the goal of a facelift? Most people get them because they want to lift and tighten their facial tissues. That includes smoothing out wrinkles and, sometimes, getting rid of saggy skin. Essentially, the patient wants their skin to look younger.

For a mask or any product to work like a facelift, it must mimic the results of a facelift procedure. The mask should help hydrate, tone, and tighten facial skin. Always research the details about how the mask works and what it claims to do.

Get a facelift at home with microcurrent face lifting masks

Alternatives to a facelift include botox, filler, thread lifts, and ultra therapy. But each of these procedures is costly and time-consuming. Many people are turning to the microcurrent facial, also known as the non-surgical facelift.

Microcurrent facials use low-voltage electricity to stimulate your facial muscles, giving them a "workout." The result is tighter skin, tightened muscles, and the stimulation of collagen, a plumping protein that everyone's face starts to lose after their 20s.

Franz Skincare has created the first at-home sheet mask using microcurrent technology. You get the smoothed-out, plumped-up, wrinkle-reduced look from microcurrent facials right at home. The Premium Microcurrent Dual Face Mask protects against the first signs of aging, and the Saint 21 Gold Microcurrent Mask addresses the advanced signs of aging.

These aren't your average sheet mask — they're microcurrent face lifting masks developed after eight-plus years of research and over $10 million in funding. We've created a dual-action treatment known as Tissue X® that works deep beneath the skin's surface.

You can experience tighter, more youthful-looking skin only after a few treatments. Skip the expensive clinic visits by using the power of microcurrent toning and tightening at home.

shop Premium Microcurrent Dual Face Mask shop Saint 21 Gold Microcurrent Mask

Benefits of a microcurrent sheet mask over a facelift

Failed facelifts and other similar surgeries are more common than you might think. Bad luck, poor expectations, and inexperienced or uneducated providers can lead to less-than-desirable results. Plus, facelifts don't last forever — and the average cost of each facelift is $8,005, according to the American Society of Plastic Surgeons.

Using a Franz sheet mask has many pros over a facelift, including:

Being much cheaper than a facelift (see above)
No recovery time
No need for needles or in-office procedures
Easy to do in the comfort of your own home

You get the benefits of well-researched anti-aging technology with little to no risk.

The facelifting effects of Tissue X®

Face masks are a regular part of many skincare routines, and they are good for self-care. However, face masks have limits unless they go deeper. For example, the ingredients in a face mask must be small enough to penetrate the skin. Otherwise, everything just sits on the skin's surface.

Tissue X® was developed as the solution:

The microcurrent technology uses the power of the ocean to create gentle waves across the skin, opening up the pores as much as possible.
At the same time, the dual face masks activate to deliver moisturizing and rejuvenating ingredients deep into the skin's layers. The masks penetrate six times deeper than topical face masks.
The outcome is clinically proven results that smooth, plump, and tighten the areas that a facelift targets.

The mask ingredients include tiny hyaluronic acid molecules—anywhere from 250 to 300 times smaller than the average—to deliver hydration deeper into your skin. With the Saint 21 mask, you also get ingredients like hydrolyzed collagen for skin elasticity and plumpness, adenosine to fight wrinkles, and elastin for firmness.

Can a microcurrent mask get rid of nasolabial folds?

Microcurrent facials can "exercise" every area of your face, including the nasolabial folds — those lines you get on each side of your mouth.

The microcurrent stimulation strengthens the skin and restores volume to your cheek area, which helps lift the skin around your mouth. Besides providing a natural lift, the facial helps flatten, soften, and reduce the nasolabial folds.

How do you wear and use a face lifting mask?

step 1

step 2

step 3

step 4

The microcurrent masks include two masks for maximum effectiveness.

After washing and drying your skin, you'll apply the Enriching Face Sheet Mask to your face. Then, you'll add the included Boosting Essence (Elixir) to the square ion cells on each side of the Empowering Mask. You'll place that mask on top of the first, seal them tightly, and relax for 20-25 minutes while the microcurrent magic does it's work.

Gentle massage your face after removing the mask, and apply a dose of nutrients with an anti-aging serum or stem cell ampoule.

If you're looking for the effects of a facelift minus the cost and recovery, a microcurrent facial mask might be the answer you're looking for. At FRANZ Skincare, we combine science with nature for professional results right at home. Try the Shop Intensive Two-Week Repair System or Anti-Aging Repair and Skin Smoothing Duo to get started today.