Skin Saver Face Mask Liner: Attacking Protective Face Mask Woes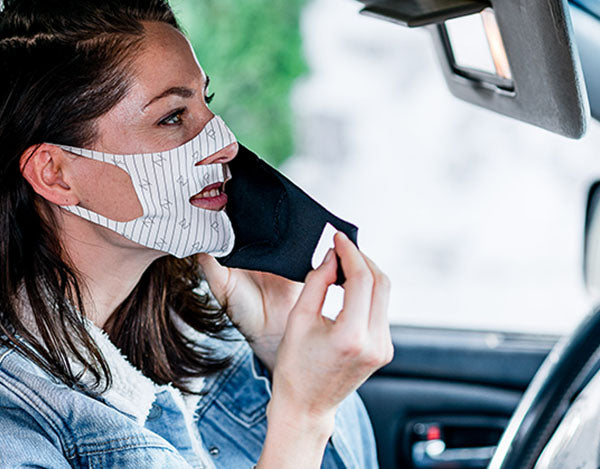 In this article :
Reusable Antimicrobial Face Mask Liner that Cools and Soothes Skin
While we're used to "face mask" referring to our hydrating, anti-aging, skin-restoring products, these days, it's more common to think of the protective fabric face coverings we wear while social distancing to keep ourselves and others safe. And while those face masks are critical to stopping the spread of COVID-19 (COVID) as recommended by the center for disease control (CDC), they do not benefit our skin the way our dual mask sets do.
From maskne and other skin problems, to skin irritation, to heat and moisture build up, face coverings can wreak havoc on your skin.
The World's First Antimicrobial Microcurrent Face Mask Liner
Introducing the world's first microcurrent mask liner! This reusable, washable mask liner attacks your most popular mask concerns by adding a double layer: the liner to protect your skin, while your usual cotton face mask protects from the outside world:
I'm worried my face mask is contaminated with bacteria
My skin is breaking out!
My skin feels itchy during or after I wear a face mask
My mask becomes soggy and clings to my skin
My mask smells bad...
It's hot to wear a face mask, but my skin feels so dry!
If you suffer from any of these concerns, the Skin Saver Maskne Prevention Antimicrobial, Washable and Cooling Mask Liner is the simple solution making wearing a protective face covering comfortable, hygienic, and so much easier.
How is the Skin Saver Mask Liner designed?
Both the inside and outside of the mask liner was thoughtfully designed to provide the maximum benefits for your skin.
The Inside
The inside is crafted with encapsulated antimicrobial silver & skin-soothing aloe vera, designed for heat absorption and preventing breakouts all with a soft-to-touch, non-irritating material.
The Outside
The outside of the liner is imprinted with Franz's proprietary microcurrent-generating technology, is made of an instant-deodorizing fabric and one-way moisture transfer for optimal moisture wicking.
Storage
Our Skin Saver comes with an antimicrobial copper film reusable storage pouch.
Simply put, our Skin Saver will keep your face cool and dry which prevents acne and irritation.
How do you wear the FRANZ Face Mask Liner?
Clean your hands before touching the Mask Liner
Place Mask Liner on your face to fit around mouth, nose, chin
Wear your own outer face mask over Mask Liner, making sure there are no gaps between your face and the Mask Liner
Hand wash and reuse the Mask Liner. Hang to dry, do not put in a dryer or add heat
Store in Antimicrobial Copper Pouch
What are the key benefits to using the Skin Saver Face Mask Liner ?
Our Skin Saver Maskne Prevention Antimicrobial, Washable and Cooling Mask Liner is a game changing, revolutionary prevention against skin conditions for when you wear your protective cloth face mask.
Cooling
Besides our want to be comfortable, our body must maintain a stable, balanced internal state, a.k.a. homeostasis. Higher temperatures can throw off any enzyme actions or cell functions. Keeping the temperatures as close as possible to the normal state is key to overall health. The increased rate of skin temperature is noticeably reduced when Franz Mask Liner is worn under a safety mask.
Moisture Wicking
Franz's proprietary fast-absorbing, quick-drying fabric, traps moisture and diffuses away, eliminating humidity, keeping skin fresh and clean.
Antimicrobial
Cutting-edge technology woven into the fabric (encapsulated antimicrobial silver) kills harmful bacteria such as E. coli, S. aureus, & Klebsiella pneumoniae, and odor-inducing bacteria. By eliminating bacteria, cystic acne or rashes do not form and your mask remains odor free.
Skin Soothing
Woven within the fabric is encapsulated Aloe Vera to soothe your skin via Franz's patented microcurrent technology. Aloe Vera is an essential ingredient for healing damaged, irritated or inflamed skin. Rich in vitamins A, B , C, D and E as well as minerals like magnesium, potassium and zinc, Aloe Vera helps maintain skin's moisture barrier to prevent transepidermal water loss to keep skin hydrated. This highly effective ingredient is delivered deeply to the inner skin with Franz's cellular-level-stimulating microcurrent technology, leading to healing damaged skin from the inside out.
How do you store the Skin Saver Face Mask Liner?
Keep your Franz Mask Liner and Safety Mask in the included copper ion-infused antimicrobial pouch. This high quality antimicrobial-filmed pouch, infused with copper will keep away germs and bacteria when storing your face mask liner. It's also perfect for storing your daily necessities! Anything stored in the pouch receives the benefits of the copper ion-infused antimicrobial properties.
Our mask liner is meant to be worn under your protective face mask
Remember this mask liner is meant to be worn under your protective face mask and is not a replacement for a face covering. Please refer to the CDC's guidelines for face coverings when choosing what to layer your mask liner under for maximum safety and protection.