Your Step by Step Skincare for Valentine's Date Night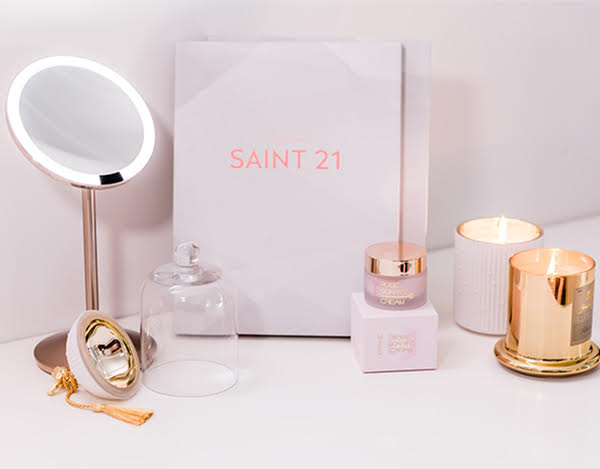 In this article :
Head to Toe Skincare Tips for Date Night
It's date-night-in for Valentine's this year, but that shouldn't stop you from celebrating one-on-one with your love. If you've got a date night planned for the evening of February 14, date night prep is key. Pamper yourself from head to toe for lusciously soft, glowing skin your date won't be able to help but appreciate.
Here is you step by step skincare guide to date night:
Step 1: Steamy Shower
Of course, any great skincare routine starts by getting clean. Prep your skin to receive the nutrients from your skincare with a steamy, soothing shower.
Cleansing
Cleansing is the first step to any great skincare routine. This is a great evening to break out the good stuff. Is there a body cleanser with a delectable scent? A luxurious soap gift set you received as a gift? Be sure to cleanse from scalp to heel.
Exfoliate
Exfoliate Your Skin. Scrub away dry skin cells with your favorite exfoliant. Don't have one on hand? You can make your own body scrub using sugar (brown sugar is best for sensitive skin, pure cane sugar is great for all skin types, and raw sugar is the coarsest and holds the most essential minerals of the three) with jojoba oil, vanilla extract, vitamin E oil and lemon. Don't forget a good lip scrub for soft, kissable lips.
Step 2: There's a Mask For That
We love a mask treatment for an extra dose of hydration, nutrients and something extra we don't get day to day. It's a great way to kick off your relaxation, skincare session. After your shower layer them on and let yourself relax. While your masks sit, enjoy a nice glass of wine, listen to music or a podcast, and let the mask work it's magic. Here are our picks for masking from head to toe:
Face Masks
Look no further than the FRANZ Microcurrent Dual Face Mask line. The world's first microcurrent masks create power by charging ions and water to deliver healing and soothing ingredients 6x deeper. For preventative anti-aging, choose the Premium Microcurrent Facial Dual Mask and for deep anti-aging reach for the SAINT 21 Gold Microcurrent Facial Dual Mask. To bolster the effect of this mask and to heal and revive deep into skin, layer the Stem Cell Culture Medium Ampoule under. Date night is the perfect excuse to go all out. 
Pro Tip! Use the extra serum from the pouch of the wet mask on your neck, elbows, knees and any place you'd like a boost of hydration.
Hair Mask
After your shower, while your face mask sits, treat your strands. For smoother, shinier, silkier hair, the Renewal Mask by Crown Affair hydrates hair without weighing it down. After cleansing and conditioning, remove excess moisture from your hair, then generously coat your strands with the mask, using a wide tooth comb to evenly distribute. Leave on for 10-15 minutes, then rinse with cold water.
Chest and Butt Masks
Treat your assets with care using The Perky Set by Anese, a set formulated specifically for your body for firm and acne free skin. Let these masks sit on cleansed skin while your face and hair masks work their magic.
Foot Mask
Don't forget to give some love to your heels, toes and arches with a hydrating foot mask. We love Volcano by Lush. Apply a thick coating all over your feet. Wrap them in plastic for a mess-free and soak-efficient foot treatment.
After about 20 - 25 minutes, hop in the shower to rinse off the masks on your body and rinse the hair mask out of your hair. Rinsing is not necessary after your face masks, in fact, take a moment to gently massage the extra serum into your face. Now your skin is in tip-top shape and ready for serums and creams.
STEP 3: Treat and Moisturize
Finish off your skincare routine with serums and moisturizers for healthy skin and lock in hydration and create a moisture barrier.
Face Serums
For preventative anti-aging & deep hydration: try Everyday Essence Face Serum for deep hydration deep into the layers of the skin. For deep anti-aging and full plump skin: try 101 Volumizing Anti-Aging Face Serum to restore volume to the skin to smooth wrinkles and fine lines.
For targeted spot treatments: try Botalin Age Repair Eye Serum under your eyes to banish dark circles and fine lines.
Body Serums
We recommend the LUNA BODY SERUM for dry, sensitive, inflamed skin conditions, skin that needs cooling and tonifying as well as subtle aromatherapy. You could also try the Global Body Serum with is naturally rich in Vitamin C and fatty acids.
Face Moisturizer
To lock in hydration and form a protective barrier so that moisture doesn't escape, try the Rose Quartz Moisturizing Face Cream.
Body Moisturizers
We love the OSEA Anti-Aging Body Balm for a silky, long-lasting finish or even a classic CeraVe Moisturizing Cream which is tried and true.
Now that you've handled skincare from head to toe, remember to add any finishing touches of scent or perfume that makes you feel ready for whatever date night brings.