How to get a Microcurrent Facial Treatment at Home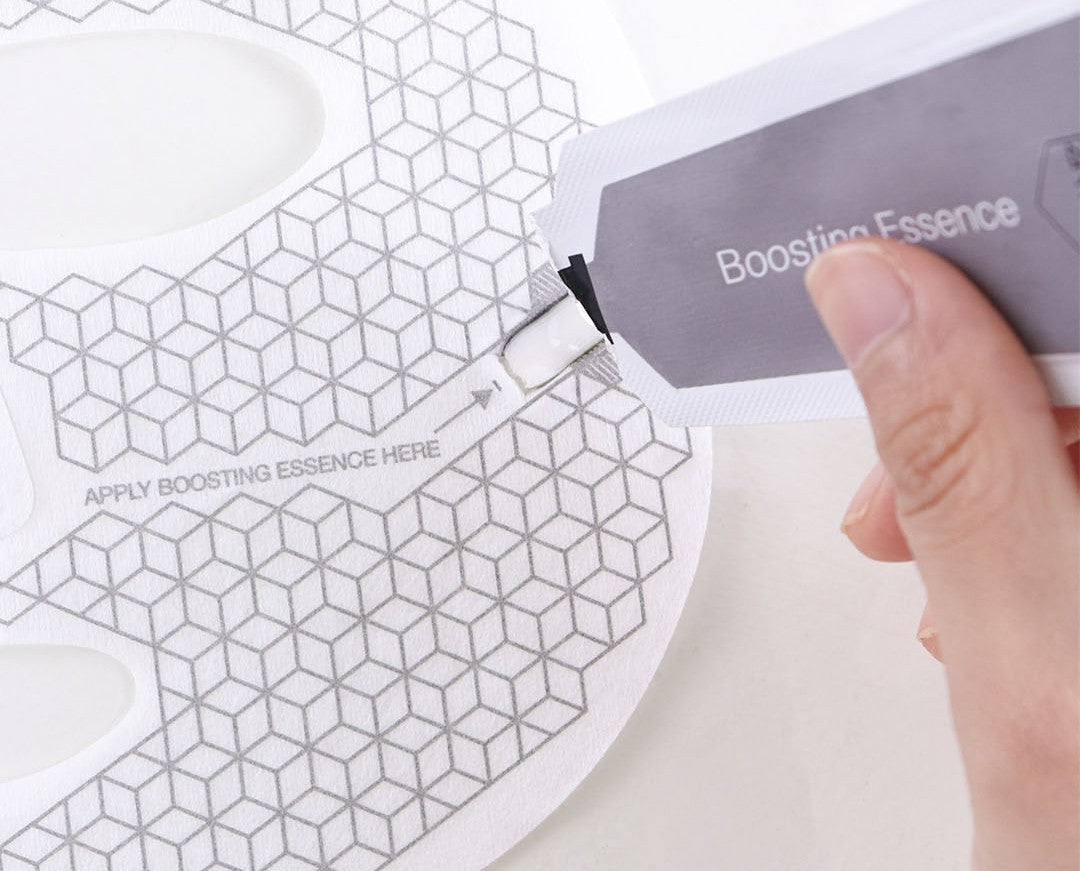 In this article :
Get a Spa Quality Facial Treatment at Home
Book a dermatologist appointment, board meeting gets rescheduled, reschedule dermatologist appointment, friends invite you to dinner, reschedule dermatologist appointment… We're busy and finding time to not only book a dermatologist appointment, but also finding time to escape the office and visit the dermatologist between calls is no easy task.
What is a Microcurrent Treatment?
A microcurrent treatment, otherwise known as a non-invasive facelift, traditionally involves using a device that emits low-grade electricity to stimulate facial muscles and provide a lymphatic drainage massage. You can get them done at med-spas, which can be expensive, or by using at-home tools, which can be tricky to use or to do correctly.
What is a Microcurrent At-Home Facial Treatment?
Need a microcurrent facial at-home - without a device and no downtime? Enter Franz's eco-powered Tissue X™ technology. Backed by 5 years & 10 million dollars of research, this first-of-its-kind skin absorption enhancement technology works by blending positive and negative ions from freshwater and seawater. This creates tiny, naturally-occurring electrical waves across your skin, so ingredients go as deep as possible to nourish and repair skin from the inside out. It's like a non-invasive facelift at home—no needles, no batteries, no downtime.
Do I have to go to a spa or dermatologist to get a Microcurrent Facial?
Until now, microcurrent treatments were strictly completed in-offices with devices, estheticians, dermatologists, and practitioners. Meet FRANZ Skincare: the newest innovation in at-home skincare regimens and the World's first at-home microcurrent facial via mask.
Whether you want to curl up with a favorite novel, lay back on the couch and turn on your favorite Netflix show, or zone out with your go-to meditation app, sit back and relax with an at-home microcurrent facial treatment.
Do you need a device for a microcurrent facial?
The best part? You don't need a device and you can skip the batteries!
From award-winning products to revolutionary technology that transforms the skincare routine, FRANZ Skincare's must-have products produce moisturizing, anti-aging, increased collagen production, fine line reduction, and firming benefits. 
It's 2020 so let's talk about technology. FRANZ Skincare uses Tissue X™ Technology to enhance the serum's absorption to work into the deepest layers of the skin.
Why are Microcurrent Face Masks better than regular face masks?
Let's go deeper. We all love sheet masks and other skin care products, however, they tend to leave ingredients on the skin's external surface layer. Why isn't this great? If your skincare stops working on the outside layer of your skin, how can you truly transform your facial appearance? FRANZ Skincare doesn't stop at the external layer of your skin; our products work deep beneath the layers of the skin to optimize performance and reverse signs of aging skin.
What is a Microcurrent Face Treatment?
FRANZ Skincare's patented microcurrent technology uses clean energy to deliver essential skincare ingredients (Oligo Hyaluronic Acid, Hydrolized Collagen and Adenosine) deep beneath the skin's surface. The Tissue X™ technology applied to FRANZ's products generates microcurrent in non-woven fabrics by using the difference of ions. World-renowned publications and experiments have proven the effectiveness of Tissue X™ and now you can discover the results in the comfort of your own home.
What can you expect from a Microcurrent Facial Face Mask?
WOW...that's a lot to digest. Are you intrigued by the technology, but you're trying to discover what this will do to your facial appearance? The results reverse the signs of aging by reducing redness, hydrating skin, increasing collagen production, and minimizing fine lines and treat wrinkles.
Try FRANZ Skincare's signature microcurrent mask: Premium 2-Week Microcurrent Face Mask System to reveal transformed skin in just 2 weeks!
How to use a Microcurrent Face Mask for an at home facial
Cleanse your face and pay dry.
Place the Enriching Mask on your face and press evenly onto your facial contours.
Using the Elixir and Empowering Mask, add the Elixir liquid to the back of the small boxes and let the Elixir fully absorb into each of the 2 boxes.
Layer the Empowering Mask on top of the Enriching Mask and pat with your fingers to make sure it's securely attached
Relax for 20-25 minutes and remove the mask
Pat in any excess serum to optimize the mask's benefits
Is the Microcurrent Face Mask gentle?
FRANZ Skincare created gentle, yet powerful products to enhance the skincare regimen and deliver the latest innovation in skincare technology.
While many people turned to Botox, fillers, and devices for years to reverse the signs of aging, FRANZ Skincare empowers you to skip the harmful ingredients in Botox and transform your skin's texture and appearance with at-home microcurrent face and neck treatments. Plus, the masks use eco-friendly green technology to benefit you and our planet.
Do you have sensitive skin? Normal, oily, dry, sensitive, and combination skin types can all use and benefit from the microcurrent face masks.
SAINT 21 Microcurrent Facial Dual Face Mask – Go for the Gold
The SAINT 21 Microcurrent Dual Face Mask is a gold coated mask that enables an even deeper penetration of ingredients for optimal results. The gold-coated mask has a stronger ion power and concealing effects to increase ingredient absorption into the skin by over 50%. The gold will be sure to catch your friends' attention on social media, and your skin will look as good as gold even after just one use. This contains 2 sets so you can continue seeing results and reveal firmer, brighter and more even-toned skin.
Microcurrent Facial Benefits - Can Microcurrents work on Neck Wrinkles?
Yes! The Neck Microcurrent Dual Skincare System is the first microcurrent mask designed exclusively to reduce lines, wrinkles and redness on the neck. Lift, smooth and tone the neck in just one treatment. This system is a great neck wrinkle treatment!
How to Maximize Results with your Microcurrent Face Mask
FRANZ Skincare's Microcurrent Masks will deliver immediate and long-lasting results, and to maximize results, we suggest using the Everyday Essence Face Serum to treat your skin with high performing ingredients daily and in between masks. The moisture barrier will help to keep your skin hydrated longer.
Do you want to target anti-aging?
If you're looking to specifically target anti-aging, we suggest using the 101 Volumizing Anti-Aging Face Serum to tighten, hydrate, and strengthen the skin barrier.
Rose Quart and Rosewater to moisturize & repair skin
The Rose Quartz Moisturizing Cream is a daily must-have to moisturize dry skin, soothe redness and irritated skin, and repairs skin to prevent scarring. The key rosewater ingredient has anti-inflammatory properties and leaves skin plump, hydrated, and radiant. 
Before & After Results from a Franz Microcurrent Facial Mask Treatment
Let the results speak for themselves. View these before and after photos to see the reduction of fine lines and redness, as well as the increased collagen production to reverse the signs of aging. FRANZ Skincare treatments produce results in just one use that only takes 25 minutes. To reveal even more dramatic results, continue using the mask once per week and use the serum daily to optimize the skin's transformation.
Show off your before and after results with #FRANZation. We can't wait for you to reveal your skin transformation with FRANZ Skincare's at-home microcurrent face masks.