Your Guide to the FRANZ Skincare Face Serums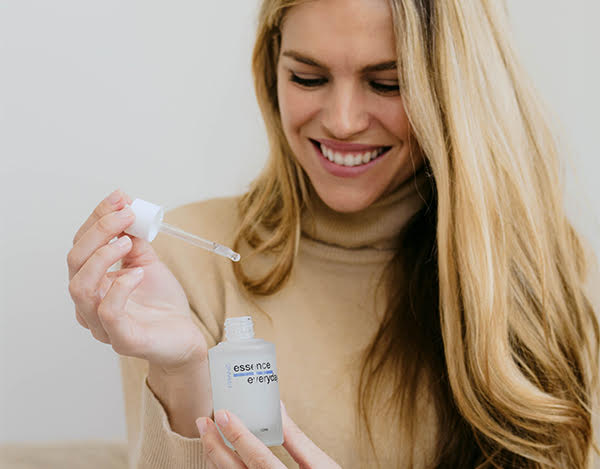 In this article :
FAQs for Choosing a Face Serum Right For Your Skin
The key to anti-aging is ensuring your skin is always fed with adequate nutrition and proper hydration to combat free radicals that can cause signs of aging like collagen loss as well as wrinkling, dark spots, fine lines and loose, saggy skin. Serums are a powerhouse part of the skincare routine when it comes to feeding your skin what it needs to fight these skin concerns. So which of FRANZ's serums are right for you? This is your guide to finding the perfect serum for your skin's needs.
What is a serum?
Serums function much like a lightweight moisturizer, however, unlike a cream moisturizer, they typically have a few active ingredients in higher concentration, meant to address a specific issue (wrinkles, dark spots, brightening etc.). Because of their lightweight consistency, they are fit to better deliver higher concentrations of the things your skin needs deeper into your skin. Choosing the right serum depends on what your skin goals are. Popular active ingredients in serums are things like hyaluronic acid, salicylic acid, glycolic acid, ferulic acid, and vitamin C. You may see serums advertised as a treatment step in your skincare routine.
Are serums hydrating for your skin? How are face serums different from a moisturizer?
Many serums are formulated expressly to help keep your skin hydrated, soft, and supple. Hydrating serums are not meant to replace your heavier cream moisturizer though. Even though face serums penetrate deeper, they actually better serve to boost your regular moisturizing cream. Serums sink into skin to hydrate and moisturizers create a moisture barrier to lock that hydration in.
How are eye serums different from broad face serums?
Because the skin around the eyes is thinner and more fragile, eye serums are specifically formulated to effectively treat the sensitive area around the eyes. Often eye serums are meant to address specific under eye concerns like dark circles or puffiness which broad face serums may not have the proper active ingredients for.
How often should I use a face serum?
Most face serums are meant to be used in the morning and evening between the cleansing and moisturizing steps. Some serums may be specifically meant for morning or evening and some are exfoliating serums meant to be used only a few times a week, so always be sure to follow the recommended usage for any product.
When in my skincare routine should I apply a face serum for the best results?
For best results apply your face serum between your cleansing and toning step but before your moisturizer. A good guideline to determine when in your skincare routine a product should go is to consider the density of the product. However, always be sure to cleanse first in any routine. The thinnest consistency products should go first, building up to the thickest products. You want your thinnest products to sit closest to your skin during your routine.
Do you wash your face after applying a serum? Should I apply a moisturizer over serum?
No, unless expressly indicated, you should cleanse your face BEFORE applying a serum and allow the serum to absorb into your skin and do not wash them off after. Follow up your serums with a moisturizer to create a moisture barrier and lock in the nutrients and hydration your serum is offering your skin.
What makes FRANZ's serums uniquely beneficial for skin?
All FRANZ's serums and moisturizers are specifically formulated with a Hyaluronic Acid Complex with varying sizes of Hyaluronic Acid molecules. The different sizes allow for deeper layers to absorb these powerfully hydrating molecules. Skin's surface can handle larger molecules, but to reach the inner skin the formula requires smaller molecules. The inner, deep layers of your skin is where all long-term, meaningful repair happens. By having these differing sizes, all skin types will feel hydrated through all layers of skin.
Which FRANZ serum is right for my skin?
For all skin types, FRANZ has a serum formulated just for you.
Franz Face Serums
A powerhouse anti-aging serum that offers mega hydration and collagen boosting for firm and soft skin for all skin types.
Key Benefits of our 101 Volumizing Anti-Aging Face Serum:
Firms and tightens skin
Restores skin volume, bounce and elasticity
Smoothes uneven skin texture
Deep, antioxidant-rich hydration
Standout Ingredient: Argireline
Known as "The Firming Peptide," this incredible ingredient works in conjunction with our Hyaluronic Acid Complex as a power pair for reducing fine lines and wrinkles.
A quick absorbing serum that provides a boost of hydration & nutrients, excellent for dry skin or sensitive skin.
Key Benefits of our Everyday Essence Face Serum:
Deep hydration in every layer of skin
Visibly plumps and smooths
Anti-aging Improves skin elasticity
Evens out skintone
Standout Ingredient: Our vitamin complex
This complex boosts antioxidants and soothes irritated skin and is also effective on dark or red spots and acne scars.
Serum for Balancing Oily Skin or For Sensitive Skin: Dewy Essence
This lightweight boost of hydration is perfect for balancing oily skin or for those with sensitive skin.
Key Benefits of our Dewy Essence:
Deep hydration without being oily delivered to every layer of skin
Visibly plumps and smooths
Anti-aging Improves skin elasticity
Standout Ingredient: Aloe Barbadensis Leaf Extract
This ingredient is a powerful soother to relieve dry, irritated or even inflamed skin.
Serum for Men: Homme Care Super Energizing Face Serum
A serum formulated for men's specific skincare needs.
Key Benefits of our Homme Care Super Energizing Face Serum:
Deep hydration in every layer of skin
Visibly plumps and smooths
Anti-aging Protects against environmental and sun damage
Evens out skin tone.
Standout Ingredient: Copper Tripeptide-1
A naturally-occurring protein with healing properties helps visibly repair skin by stimulating collagen production.
Franz Eye Serums
Serum for Smooth Bright Eyes: Botalin Age Repair Eye Serum
This serum is perfect for banishing dark circles and fine lines.
Key Benefits of our Botalin Age Repair Eye Serum:
Firms and tightens
Restore volume, bounce, and elasticity
Reduces fine lines and wrinkles
Banishes dark spots and brightens the skin
Deep, antioxidant-rich hydration
Standout Ingredient: Hydrolyzed Sodium Hyaluronate
26000x smaller than an average hyaluronic acid molecule, this mini-molecule delivers a boost of hydration to all layers of skin to plump, firm, and reduce wrinkles.
How do I boost the effectiveness of my serums?
Serums are a powerful way to add hydration and nutrients into your skincare routine. However, the rest of your routine is key to ensuring you get the most out of your serums. In addition to a great cleanser, and highly effective moisturizer, we recommend weekly masking treatments to prep skin to get the most benefits from the serums.
FRANZ has created the world's first microcurrent dual face masks that provide healing, hydration, and anti-aging benefits deep into inner skin. Clinically proven to leave skin feeling tightened, toned and reduce the signs of aging, our award-winning masks feature innovative, game-changing technology. Powered by our Tissue X™ microcurrent technology, this process harnesses the power of water into tiny, healing waves that result in a more even and smoother skin tone. Our masks are formulated for all skin types, from dry skin to oily skin or even sensitive skin; you'll be on your way to glowing skin. Use your mask twice a week for the first two weeks, and then switch to once a week for ongoing maintenance.
We recommend adding our Stem Cell Culture Medium Ampoule to your routine, specifically under any of our microcurrent face masks to help it absorb 6x deeper into skin. Our Stem Cell Culture Medium Ampoule is highly concentrated and specially formulated with growth factors to regenerate your own skin cells for deep healing and repair.
Finally, don't forget a moisturizer to lock in all the hydration you've just added to your skin and create a moisture barrier. Our Rose Quartz Moisturizing Face Cream envelopes skin in deep hydration to soothe dryness and add a boost of nutrients for skin that feels smooth and supple.
No matter your skin type, FRANZ offers a serum perfect for preventative or deep anti-aging and your skin will thank you for adding this great treatment into your routine.