FRANZ Essential Summer Skincare Guide :

The 9 Greatest Summer Skincare Tips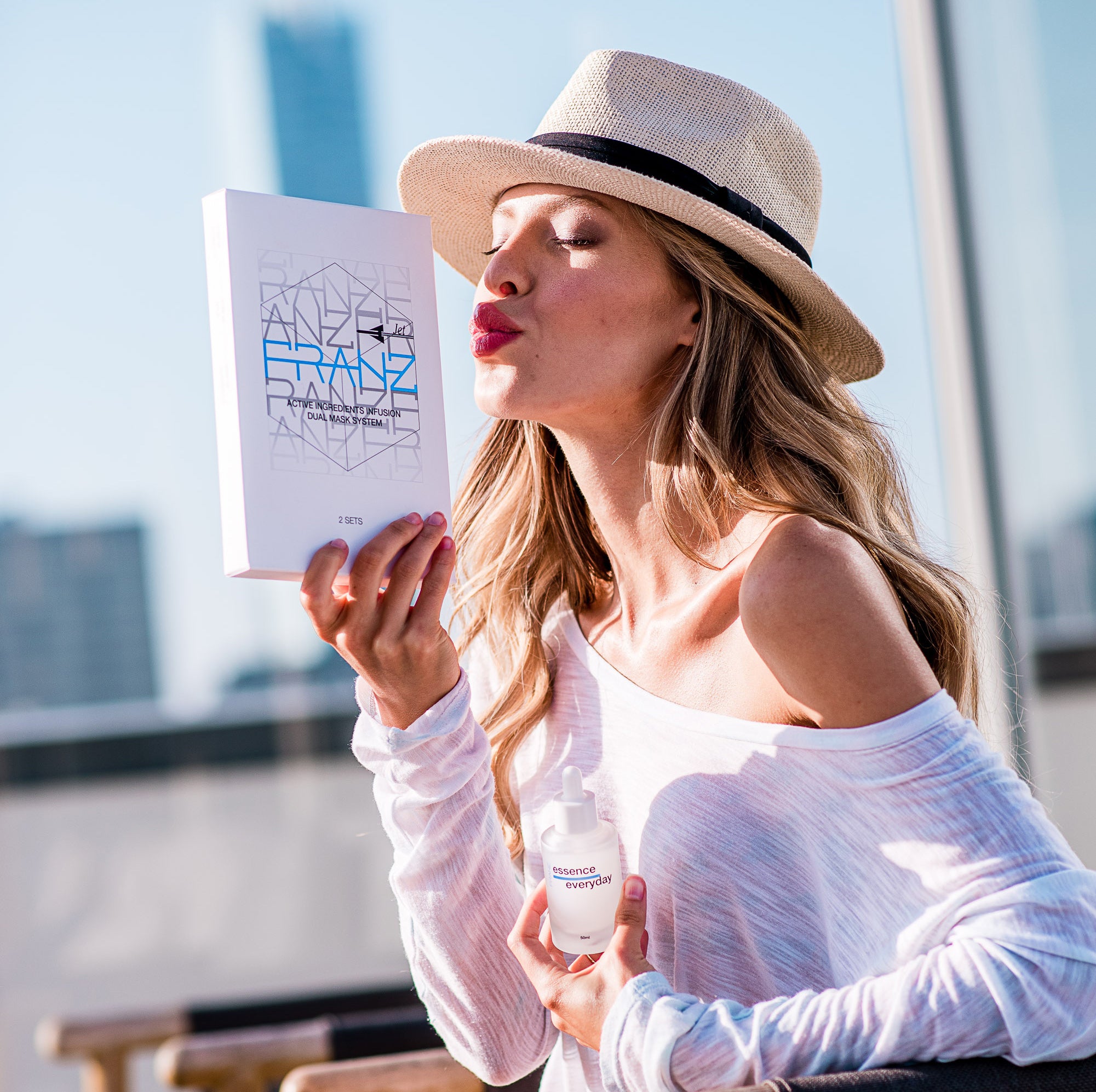 In this article :
Summer is an exciting time for all. Vacations, school breaks, and sunny weather make us happy and eager to relax. But that doesn't mean we should ease off of our skincare routines. In fact, taking care of your skin is often most important during the hot and sunny months.

To help you maintain healthy skin while you're having fun, we've prepared some summer skincare tips you shouldn't miss. Use these pointers to care for your skin this summer.

1. Best Summer Skincare Tip: Don't Forget the Sunscreen

Some of the best skincare tips center around prevention. Wearing sunscreen is one of the most significant ways to protect your skin.
And yes, you should wear sunscreen every day, especially during the summer when you're outside more. It's a common skincare myth that you should only wear sunscreen at certain times of the year.

If you still want that sun-kissed look, opt for self-tanners over the real thing. (No one has to know!) Protect your precious skin with quality sunscreen. Choose a broad spectrum SPF of at least 30, and apply often.
Apply sunscreen to any areas where the sun touches you, like your face, neck, hairline or hair parts, ears, arms, legs, and tops of your feet. Think full coverage, even on cloudy days.

2. Avoid Direct Sunlight

Cute, sun-friendly clothes are your best friends. Wear wide-brimmed hats, sunglasses, and coverups when you're in the sun for long periods. Bring an umbrella or position your beach chair under an umbrella for maximum shade.
Exposing your body to direct sunlight feels good, but remember that sunburns and tans are a no for healthy skin.

According to the U.S. Food and Drug Administration (FDA), the color change you get from tanning is actually a sign of damage. You get darker because your skin is making melanin to protect you.

3. Remember to Exfoliate

Although overwashing can dry out your skin, do remember to wash your face night and day with a gentle cleanser. And after you wash, exfoliate regularly.
There are two types of exfoliation: physical and chemical. Both help increase skin cell turnover, slough off dead cells, and clean out your pores. The result is brighter, smoother skin with fewer breakouts.

The two main chemical exfoliants are

Alpha-hydroxy acids (AHA)
Beta-hydroxy acids (BHA)

Chemical options are good because you don't have to worry about over-scrubbing like with physical exfoliants. However, be careful not to use AHAs or BHAs too often—no more than a few times per week. And always follow up with a quality moisturizer to prevent over-drying.
You can use chemical exfoliants as masks, toners, and serums. We recommend using gentle circular motions when applying serums or toners. If you have oily skin, you can probably use these acids more often.

4. Use a Quality Face Serum (with Antioxidants)

Antioxidants like vitamin C, vitamin E, and vitamin B3 (also known as niacinamide) help correct sun damage from harmful UV rays. Niacinamide also helps lighten dark spots caused by the sun.

These ingredients also help prevent collagen loss, fines lines, and pigmentation issues. And bonus: antioxidants can enhance your sunscreen's effectiveness, too!

Serums are rich in antioxidants and perfect for summer because they are thin and potent. Apply a quality serum to your face and neck in between your cleanser and moisturizer.

Use the Everyday Essence Hydrating Face Serum for lightweight boosts of hydration and nutrients. It also absorbs quickly so that you can apply and go.

5. Hydrate, Hydrate, and Hydrate Some More

You lose a lot of moisture and strip your skin of natural oils more during the summer. So, don't forget to rehydrate your skin regularly. Invest in a moisturizing face cream like the Rose Quartz Moisturizer to provide deep hydration and soothe any irritation.
Also, use products with hyaluronic acid (HA) to keep your skin dewy and plump at every turn. HA is perfect for summer skincare because it:

HA is perfect for summer skincare because it:

Contains antioxidant properties to protect the skin from harsh environments during summer activities
Hydrates the skin to reduce the appearance of wrinkles, fine lines, and general signs of aging
Helps reduce redness and irritation, promoting healing

All skin types can benefit from HA's properties. Even those it's a type of acid, it doesn't strip the skin of moisture, making it one of the best active ingredients for skincare products.
At FRANZ Skincare, we've taken the power of HA to the max. We know that the size of the acid molecule matters most. Our products use molecules that are 300 times smaller than other options, meaning they penetrate the deepest skin layers for long-lasting hydration.

Hyaluronic acid is the critical player in many of our revolutionary products, including the 101 Volumizing Anti-Aging Face Serum for wrinkles and fine lines. Get a boost of hydration and nutrients that your skin needs daily, especially when it's hot out.

6. Choose Non-comedogenic Product

Look for the word "non-comedogenic" in any of your skincare and mak eup products. This means there are no pore-clogging ingredients in the formula.
Clogged pores and other related skin issues are the last things you want to worry about during the summer.

7. Mask It Up Once a Week

Take some time to self-care each week with a mask routine. Face masks with clinically proven ingredients will help restore sun-damaged skin, provide necessary moisture, and protect from further damage during the summer.
FRANZ face masks use our award-winning Tissue X® microcurrent technology that you can't get anywhere else.
Think of it as an "at-home facelift" every time to use one of our masks. This groundbreaking technology tones, tightens, brightens, and addresses common signs of damage and aging.

The Jet Microcurrent Facial Dual Mask is a lightweight option for summer. Take just 20 minutes to use it any time, anywhere. Or fight the first signs of aging with the Premium Microcurrent Mask, advanced signs of aging with the Saint 21 Face Mask, or the Wrinkle Away Eye Mask for undereye dark spots.

8. Carry a Mask Liner

If you're traveling for the summer and wearing face masks, carry some Skin Saver Mask Liners to prevent "maskne" and other mask-related skin issues.

The liners will keep you cool and clean to stop the build-up of oil, bacteria, and dry skin under COVID-19 masks.

9. Ease Up on the Makeup

Lastly, keep your makeup routine simple this summer. Heavy makeup plus oil and sweat don't do you any favors; it can easily lead to breakouts galore. Lighten things up with sunscreen, a tinted moisturizer, and perhaps some waterproof mascara. Your face will thank you!

Your Summer Skincare Essentials

FRANZ has you covered for every summer activity you've planned. We combine beauty with science and dermatology for results that actually help your skin from the inside out. Our ingredients go deeper than other products to restore, revive, and deliver cutting-edge quality at all times.
Shop our Best Sellers for all of your summer skincare essentials today.